In the New York of 1746, there are two items that an English immigrant must take: cash and the will to survive in a new setting. A certain Richard Smith comes to New York by boat with that exact kind of will but nearly in debt because of a £1000 tally. What I really liked about Francis Spufford's debut novel was the exploration of the debt scene in the United States, where quite often because of bad money decisions people fall into crippling debt. The whole scenario then spells a lot of trouble for the national economy and it was very heartwarming to learn that colonial America was no different from the America that was to follow thirty years after a revolution made it independent for forever.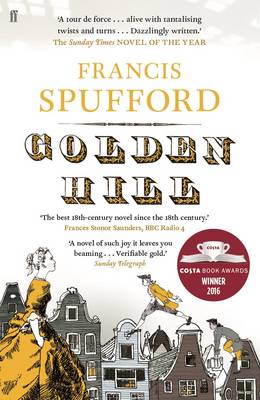 In the New World, Richard is interested in reinventing himself and we meet the place where people often fall prey to debts: Wall Street. Richard doesn't have a lot of friends in his new country and he often arouses the suspicions of Americans who speculate if he might be a shady character in town. But he does meet and fall in love with a caustic and witty lady called Tabitha. A few rather hot romantic episodes naturally follows in the narrative in spaces and it is striking – the blend of humane faces, from an African slave to a full-figured officer's wife, who use to be an actress on stage.
Richard comes across as fast-talking in the British colony, and before you know it, he gets involved in a rooftop chase, a game of cards that is quite a gamble given how difficult it is to avoid debt from such 'boys toys', and an encounter with The Capting – a perilous and disreputable person, during Richard's brief stint in prison. New Yorkers in the 18th century are caricatured as merchants, thugs, slaves, with the odd richness creeping in here and there. I wish there was a greater diversity added to that interesting bunch of American lives because even though the population of New York was seven-thousand, there must have been people with a wide range of jobs, and an equally compelling range of disposition at the time. Other than that, Richard and his animated English-turned-New-Yorker life is a good, detail-oriented, and action-filled portrait.