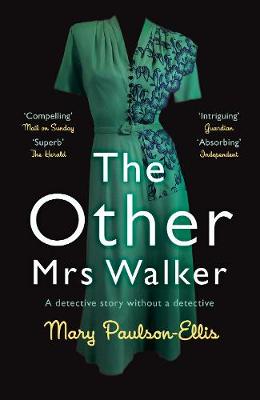 The early days of spring calls for the perfect read and there is nothing quite like a piece of murder mystery fiction, which spans several decades, from pre-war London to today's Edinburgh. The Other Mrs Walker is the debut novel from Mary Paulson-Ellis. The story of the novel involves the death of a Mrs Walker, who dies surrounded by a collection of objects gathered together during her lifetime, and Margaret Penny, who works for the Office for Lost People, and is on Mrs Walker's tail after her death to get paperwork on the peculiar lady and her family.
What was intriguing about the book were the two characters' backgrounds and they are very different too. Margaret is in her middle-ages, she is flat-broke and without a job. She spontaneously decides to come to Edinburgh from London, wearing a red coat (which was looted) and unfriendly shoes, on a nightbus as a means to escape from her previous life. Penny has had a difficult relationship with her mother, which is probably why upon first arrival in Edinburgh, she sleeps burying her broken past, with her doubt-filled future in a junk-filled room, shaped like a box, after offering to broker peace with her mother, unsympathetically aided by a nearly empty bottle of rum.
Mrs. Walker, on the other hand, probaby died because of alcohol. Whisky all over the floor from a cracked glass and nineteen bottles, all ridden empty of whisky, point towards how it might have also contibuted to the old lady's death, apart from natural causes in a near-frozen Edinburgh flat on a snowy night. Walker's collection of objects excrutiangly painfully refuse to reveal any details about the owner because they comprise of an emerald dress, a brazil nut boasting the ten commandments and and a fair few orange seeds. If anything, the curiosity surrounding who Mrs Walker really is enough to make this book a page-turner, and there is also the whole scenery that the fiction takes place in, which is interesting and rather rare to come across.